The competition among businesses is growing fast with each passing day thanks to the digital world. Each day thousands of start-ups are given birth but sadly not many of them can survive for an extended period of time. Therefore, it has become necessary for each brand to earn significance in order to stay longer in the game. Following are 3 steps every business needs to take to earn prominence and attract most users.
1. Destroy the Box
It's your decision that decides the future of your brand. The first ever step for branding is to decide whether you want to be a part of the crowd or you want your brand to stand out and look unique. Obviously such a thing does not come easy. You need to think bigger than ever to make your move and then keep updating your plan to stay ahead from everyone in the league.
"If you want something you've never had, you must be willing to do something you've never done." ― Thomas Jefferson
According to Business News Daily, "Unusual businesses have an advantage over others in that most consumers can't look elsewhere for what they offer." But even if you are some usual business who has many (more or less) lookalikes you to need to plan out how you can look different.
It is actually the perspective that counts. Didn't we have sports shoes before Nike, or a computer before Apple? Same goes with every other renowned brand around the world you name: McDonald, Google, GE appliances, Verizon and many others. What they produced wasn't much different from the prevailing market was offering except for one little thing, their USPs (Unique Selling Propositions), which made them special.
2. Spread Awareness
Once your brand's perspective is defined, it is time to plan out how you can portray and convey the message to your targeted audience. This message helps you frame your brand's personality, which makes the brand easily approachable for your targeted audience. Here are a few of the things
Create a Visual Identity
"First Impression is the last one", is although quite an old proverb, but it is one of the common and acceptable facts of human nature. According to an article posted on Forbes, researchers from NYU found that we make eleven major decisions about one another in the first seven seconds of seeing someone. Furthermore, studies have shown that nonverbal cues have over four times the impact on the impression you make than anything you say. Therefore, it is important for your brand to have a visual representation to convey its message in those seven seconds.
Logo is one of the best visual representations for your brand, as it is personalized, bespoken and attractive. It won't be wrong to say that a logo is the real identity for a brand after its name just like a flag is for its country. Thus it needs keen consideration as well a lot of detailing and intricate design to make it unforgettable, which makes this a complicated process that many business people don't want to waste their time or money upon.
Here are 5 principles of effective logo that you need to remember to make the process easier for you: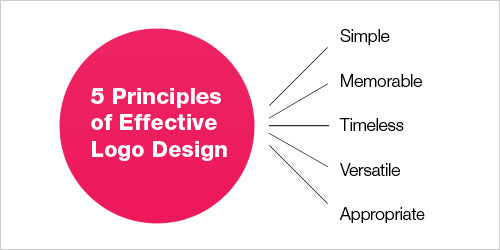 Image: Just Creative
Message attached – Slogans
"Just do it", "Connecting People", do I have to say anything further to help you guess which brands am I talking about? I guess no! Slogans are simply the centerpiece of your brand's identity. It is the verbal representation of your company's message that can explain your potential client what they can expect from you. A good and thoughtful slogan can work wonders for your brand bringing in more customers.
Aside from slogan being catchy and declarative, it should be as short as 3 to 5 words (and not more than that). You may employ metaphors and rhyming words to represent your brand.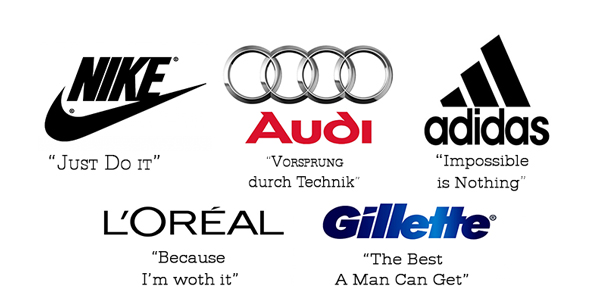 3. Be Social
There is no use of working hard to create your brand message if you are not going to make it public. The best rule of selling anything is to be there where your customer is and what could be a better place than social media. In the 21st century it has become mandatory for any business to have an effective social marketing strategy.
Here are the time consumption stats of an average user on social media: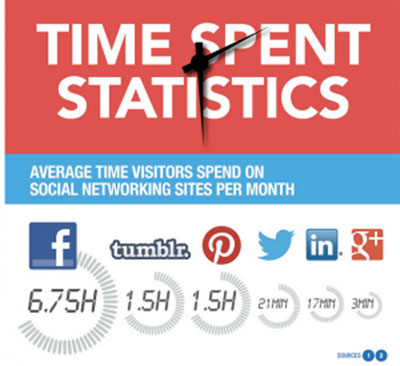 Image: Morrison & Foerster LLP
Comprehending these facts small as well as big brands have inclined their efforts towards social media. Here are a few present stats: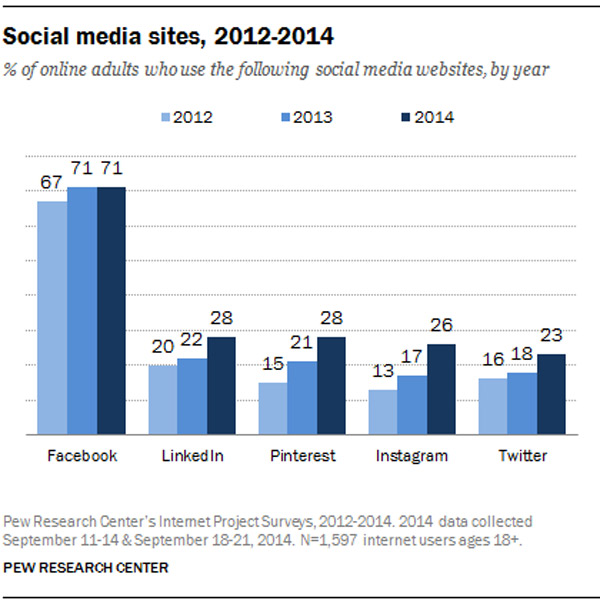 Graph: Pew Research
Keep Promoting
Well, your work doesn't end up with establishing a healthy reputation of your business rather you need to keep promoting it, in order to progress and to stay ahead of others in the race. Social media in this term can prove to be really helpful, as you can keep a one-to-one contact with your customers, know their needs and expectations collect review and offer special discounts to promote your business more as well as keep your client returning back to you.
Be Consistent
Last but not the least branding your business requires consistency. You need to find an edge over others to stand out from a sea of other brands that may offer similar product or services as yours. How do you ensure all eyes stay on you? By upgrading, you need to stay focused on being seen, heard and for that staying on your toes is the key.
All in all above pointers are the basics and a mere direction. If you are a brand then act like a shark. Stay sharp, focused in tuned to consumer habits, stalk their purchasing patterns, observe what gets heard, noticed and incorporate all that in your identity. In short do whatever it takes to get noticed! 🙂